We all know that Halloween 2020 will look a bit different this year with Covid-19 and social distancing trick-or-treat ideas may be necessary. Steps such as wearing masks (not just the scary ones) and avoiding lots of little hands taking treats from that big bowl of candy can easily be worked into tons of fun, low-contact ways that allow trick-or-treating to be safe and fun for everyone. After all, the haunt must go on!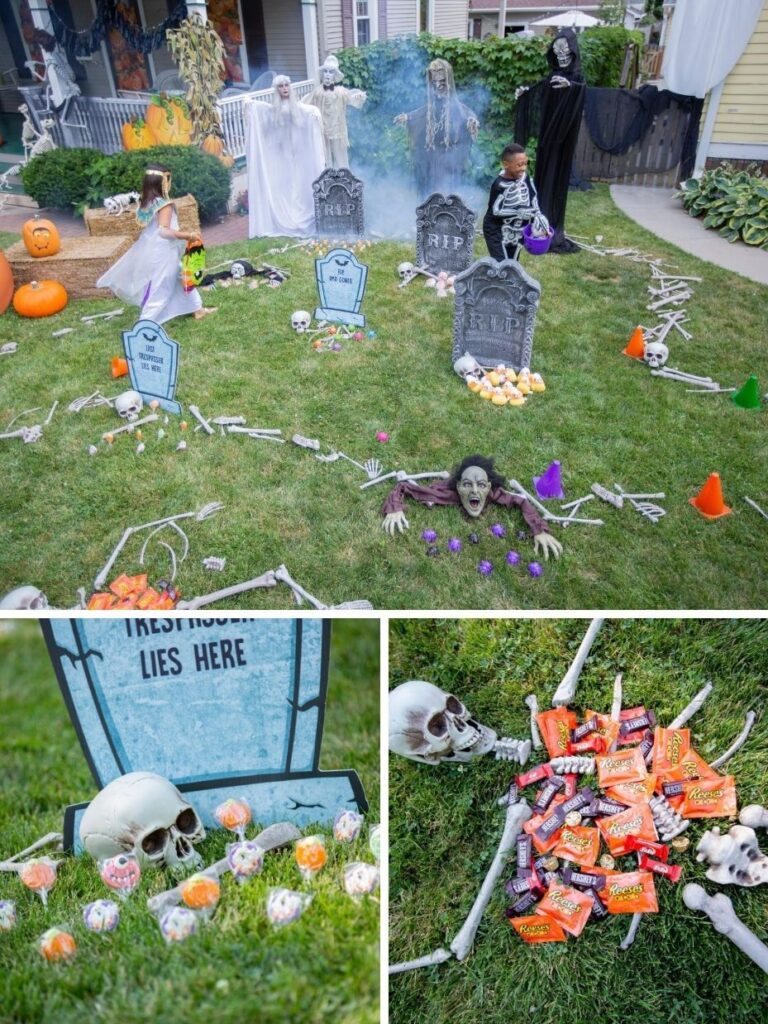 1. Turn your yard into a Candy Graveyard
Using tombstones, zombies, monsters and skeletons, turn your front yard into a candy graveyard for kids to come by and grab the sweet treats! Create it by using these ideas:
Put a bag of bones to lay out a path.
Add spooky characters and tombstone cutouts along the sides.
Place piles of wrapped candy around the path so children can grab a treat as they walkthrough.
A candy graveyard allows you to send one trick-or-treater (or kids from one family) through at a time so you can ensure safe social distancing between trick-or-treaters and families.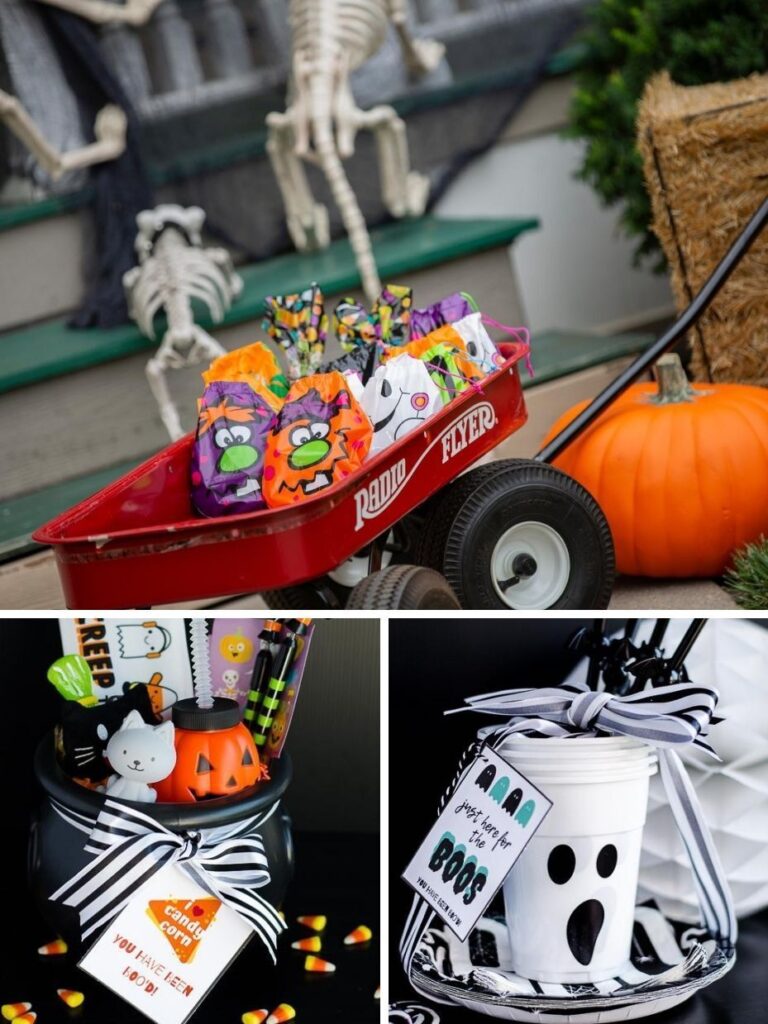 2. You've been "Booed"!
Sneak a bag filled with candy and special treats onto your neighbor's front porch to BOO them! The You've Been Booed trend has been on the rise for years, and it really is a fun way to have some safe Halloween mischief! Let's be honest – who doesn't love a Halloween surprise!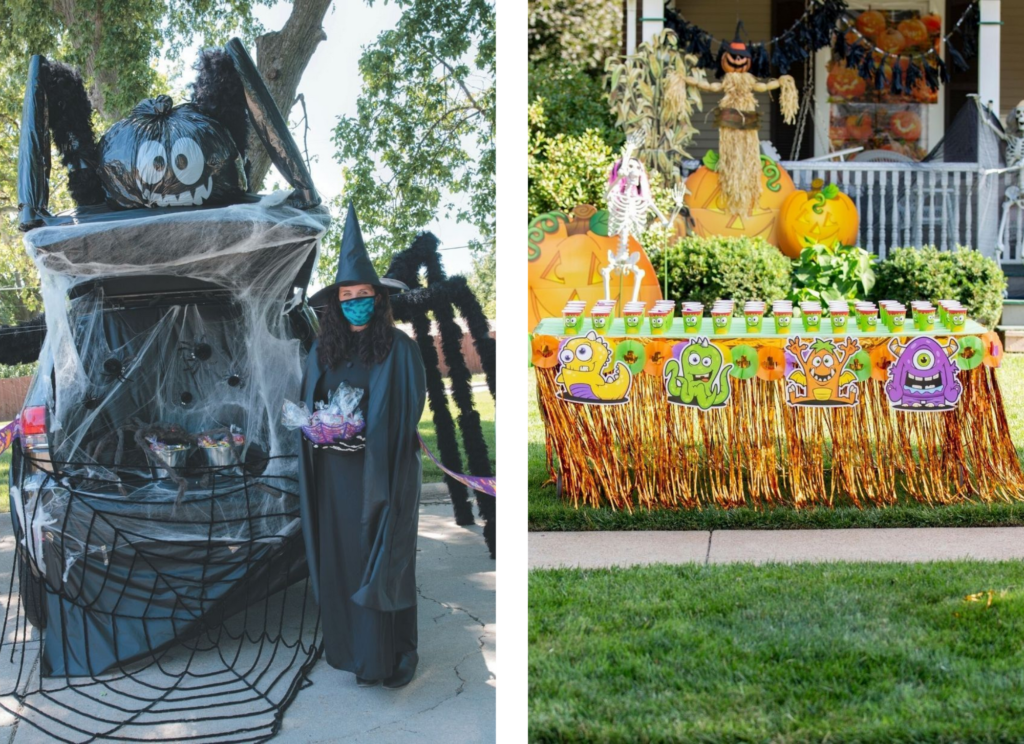 3. Trunk or Treat & Driveway Display
Keep kiddos away from the front door by setting up a Trunk or Treat in the driveway or a Trick or Treat Display in your yard/sidewalk. Decorated trick-or-treat tables are a fun way for kids to experience the excitement of Halloween while still being able to social distance. Space out the cars, decorate the trunks, set up the tables, add some fun signs, and you're ready for some socially distanced Halloween fun! Whether neighbors all park in their driveways or you set up in a parking lot, Trick or Treat Displays are a fun event for the whole family.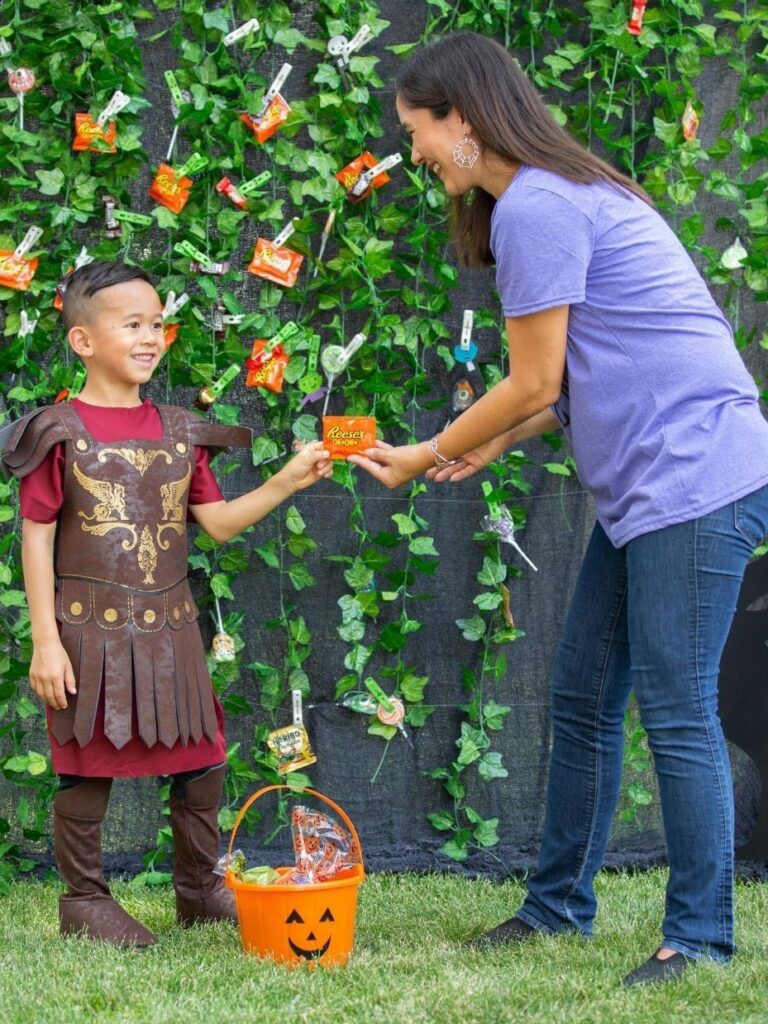 4. Contactless Candy Hedge
Forget the big bowl of candy and create a faux hedge filled with candy instead! It's super easy to make. Simply use a backdrop frame as your base, then cover it with any color cloth and layer garland over the top. Finish it by clipping candy to the garland. Now it's easy for trick-or-treaters to pick a treat from the candy hedge! Remember to create a social distance waiting area and allow just one family at a time to grab a piece (or three) of candy from the candy wall.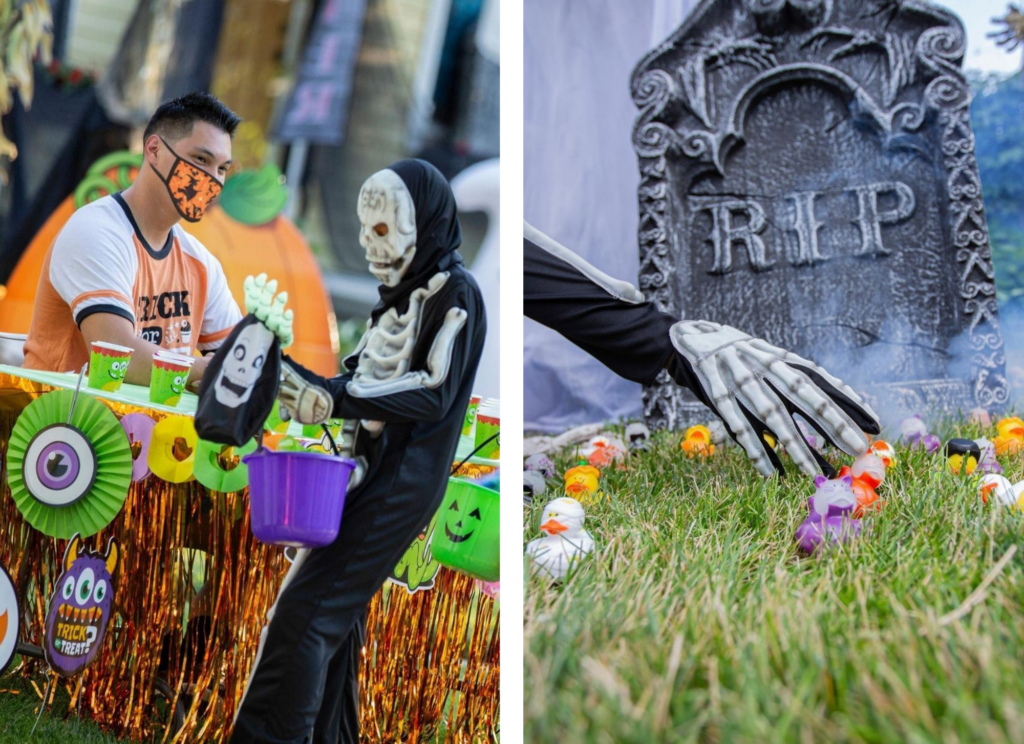 5. Wear a Creepy Mask & Gloves
Staying safe during COVID-19 is important. Wearing gloves and a mask is definitely one way to practice this. Wear a Halloween themed mask and spooky gloves whether you are trick-or-treating, having a small Halloween party or providing candy. Be sure to consider that some kids have latex allergies, so choosing your gloves wisely. Adults and children can join the fun and be safe with this Halloween strategy. Time to get creative!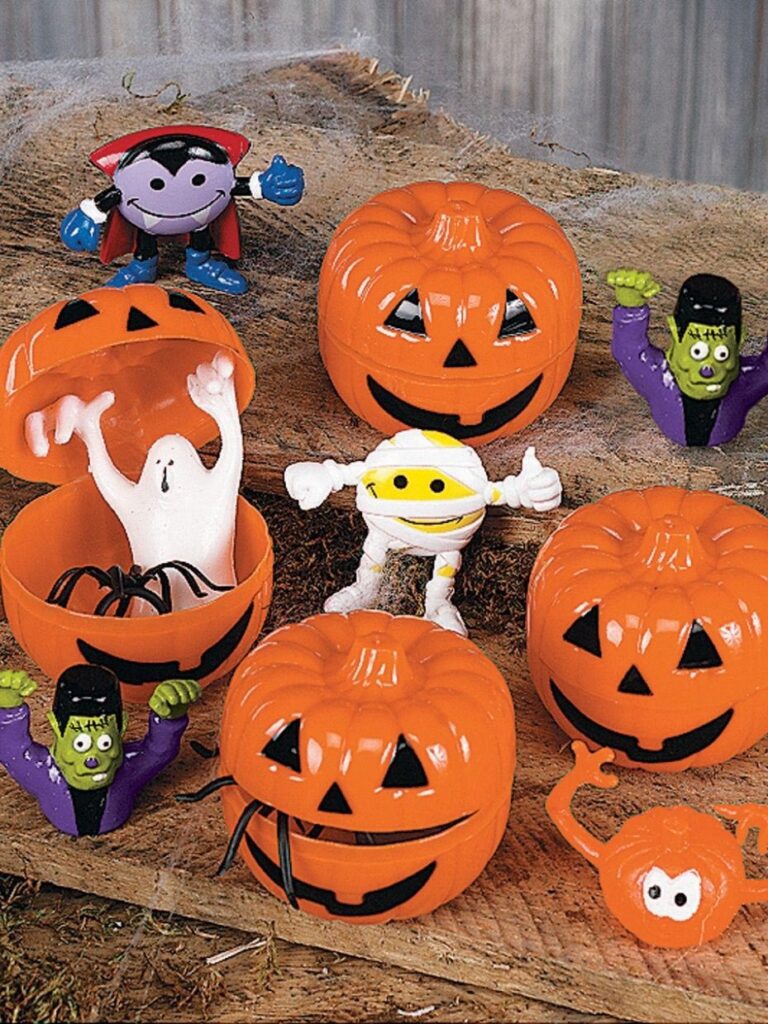 6. Have a Halloween Egg Hunt
Egg hunts aren't just for Easter! Throw a Halloween Egg Hunt this year for a low-contact trick-or-treat. Your kids will have fun going around the yard or inside the house to discover their treasured finds. Toy-filled and candy-filled jack-o-lanterns make for a super easy hunt. Grab a trick-or-treat bag and the kids will be ready to hunt!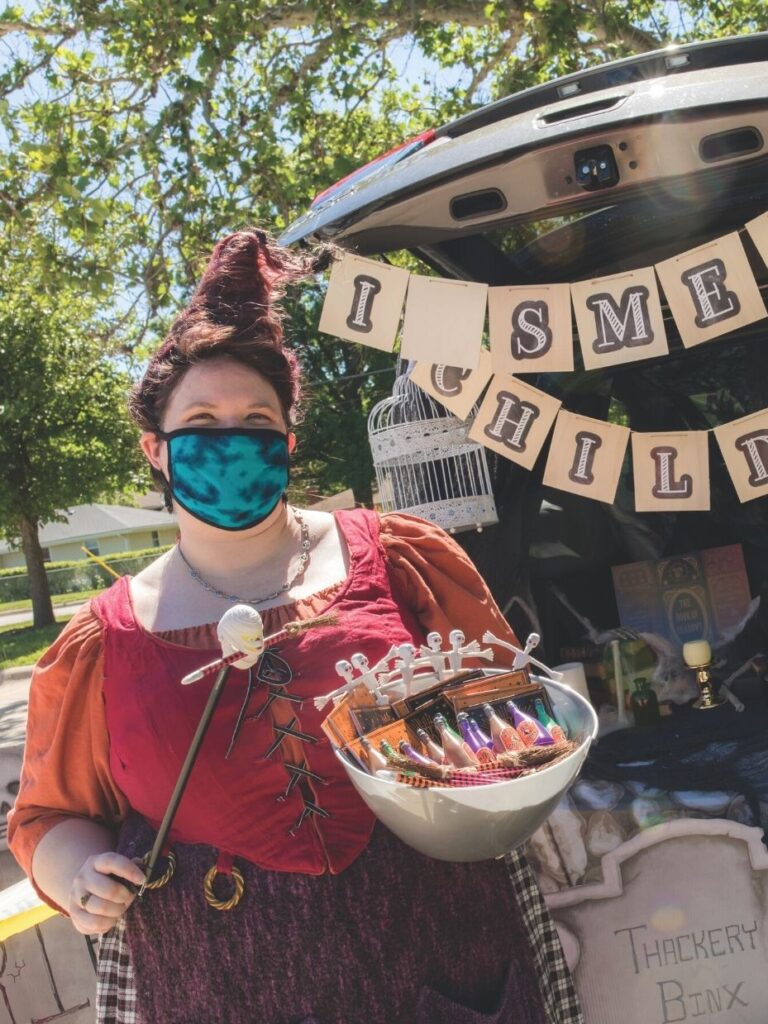 7. Use No-Touch Candy Grabbers
Why touch the candy when you can use grabbers instead! Perfect for both trunk or treats and traditional trick-or-treating, these grabbers are perfect for picking up candy to drop in trick or treat bags while still letting you keep a little distance. Remember to wear a mask, too!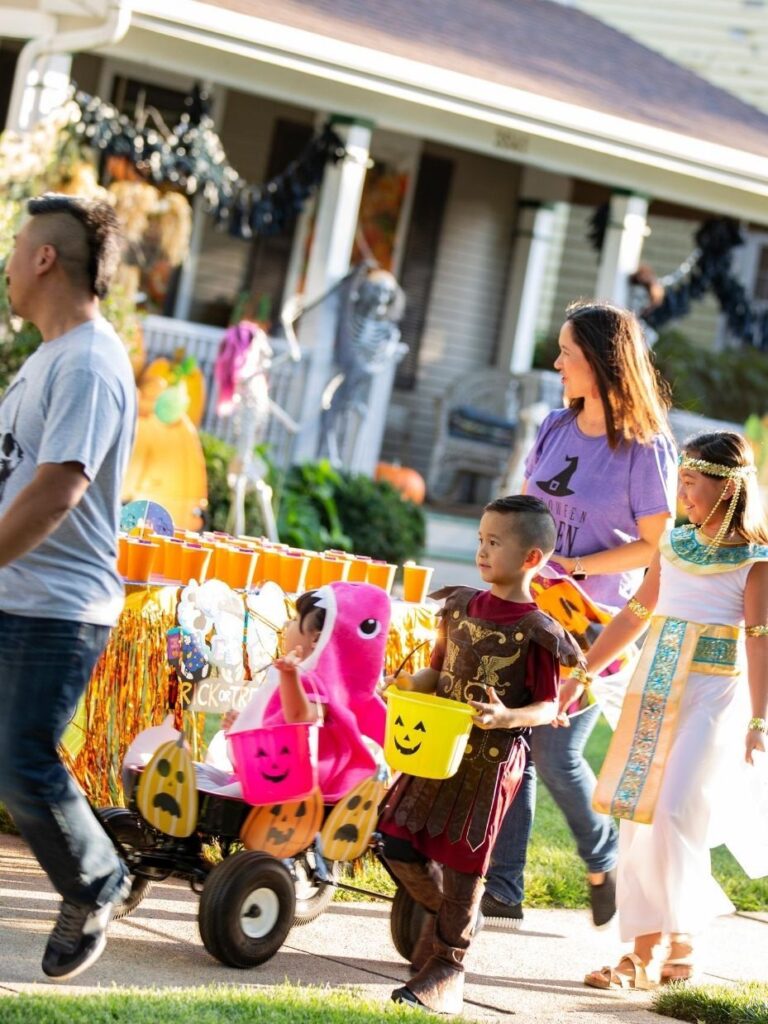 8. Last but not least, a Socially Distanced Costume Parade!
Practice social distancing while showing off your Halloween costumes with a neighborhood costume parade! Neighbors can team up to provide treats that kids can pick up along the parade path – both sweets and non-candy handouts. Add over the top Halloween yard decor along the parade route to make it extra special for the little ones.
---
Don't forget about Talega's Halloween Decorating Contest due October 16th!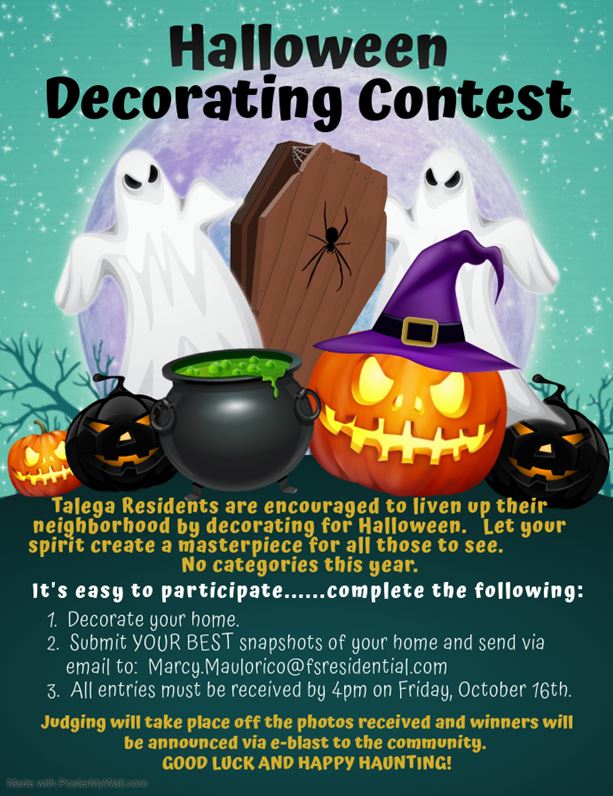 Make your house SPOOKtacular this year and show us your Halloween Spirit! Have fun decorating with the family, make some memories and enter to win. Please make sure all decorations are in good taste and appropriate for viewing by the public and families.