Talega Swim & Athletic Club
Clubhouse Phone Number: (949) 361-8466
Pool Hotline: (949) 361-8466 ext. 105
Customer Care Center & After Hours Emergencies: (800) 428-5588
Emails:
For Board/Delegate, property, and all other questions.
For community common areas.
For events, newsletter, etc.
For parking, violations, etc.
For processes, deadlines, and updates.
Talega Office Location: 100 Calle Altea San Clemente, CA 92673
Hours of Operation: 9:00 am – 5:00 pm Monday through Sunday. Closed for lunch from 12:00pm – 1:00pm on weekends
For billing, payments, maintenance requests, documents and forms please access the self-service homeowner portal below.
THE TEAM
---
CONTACT INFO: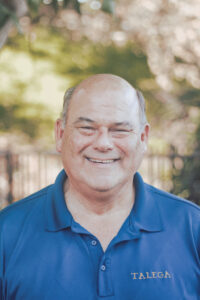 Brian Taylor
Executive Director
show more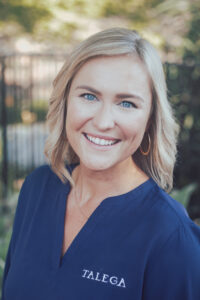 Marley Sansom
Assistant Executive Director
show more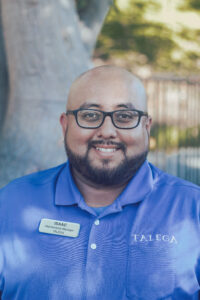 Isaac Galvan
Maintenance Manager
show more
---
---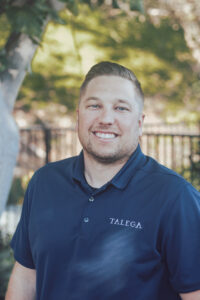 Chad Hackworth
Lead Facility Coordinator
show more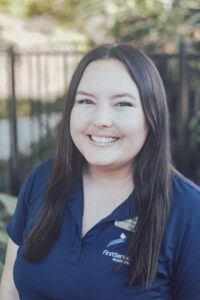 Rilee Gallegos
Resident Service Associate
show more
---
Dennis Kamp – President
Andrea Ewell – Vice President
Serge Jonnaert – Vice President
Taylor Florence – CFO
Phil Harris – Secretary
TMC Board Mailing Address
TMC Board of Directors
c/o FirstService Residential
15241 Laguna Canyon Rd.
Irvine, CA 92618
Chris Eldridge – President
Danitza Pulskamp – Secretary
Lori Foster – CFO
Corey Taylor – Director
TLC Board Mailing Address
TMC Board of Directors
c/o FirstService Residential
15241 Laguna Canyon Rd.
Irvine, CA 92618
---
Committees:
Eligibility and Qualifications: Any bona fide resident in good standing of the Talega community is eligible to serve on the committee. Members not in good standing are not eligible to serve. While there are no specific qualifications required to serve on the committee, some background and experience is desirable. Equally important, however, is the ability to look beyond one's personal perspective, balance differing viewpoints within the committee and community, and make decisions that will best benefit TMC as a whole.
No more than a single member of any of the designated neighborhoods within Talega may serve on the committee at the same time and no more than one member of the committee may be appointed from a community with a recognized sub-association. Exceptions to this policy may be made by the board to allow for training of overlapping members or times of difficulty finding qualified new members. This limitation does not apply to any committee member who is elected to the Board of Directors.
Committee members serve in a voluntary capacity at the pleasure of the board and receive no compensation for their services.
No member may serve on more than one (1) committee concurrently.
---
Sub-Associations in Talega
Talega HOA is a Master Planned Community with single-family homes, townhomes, condominiums, and apartments. Most Sub-Associations are not managed by FirstService Residential. Although, Sub-Associations also belong to the Talega Maintenance Corporation (TMC). Homeowner's who live in a Sub-Association pay HOA dues to their Sub-Association and in addition to, the Master Association (TMC).
Verano
Millennium Community Management, LLC
1900 East Warner Ave., Suite #1P
Santa Ana, CA 92705
show more
Trinidad Community Association
FirstService Residential
15241 Laguna Canyon Road
Irvine, CA 92618
show more
Carmel Community Association
Seabreeze Management Company, Inc.
26840 Aliso Viejo Parkway Ste. 100
Aliso Viejo, CA 92656
show more
Pinnacle Apartments
Essex Property Management
120 Calle Amistad
San Clemente, CA 92673
show more
Mendocino Apartments
Jamboree Housing
123 Calle Amistad Buildings 16-18
San Clemente, CA 92705
show more
Talega Business Park
MarWest Commercial
15241 Laguna Canyon Road
Irvine, CA 92618
show more
---
Community Links
Utilities serving Talega
City of San Clemente
Schools & Colleges
Local Organizations
Orange County Services
---
Directions to the Talega Swim & Athletic Club: